We have started The Project to create two replicas of the National Treasure Patchwork "Coverlet 1718" owned by the British Quilt Guild using Japanese technology and grant them.
I have put together a proposal for how to proceed with future prototypes. If you can advise on color correction, please email me at:
col.kenzou.nakamura@gmail.com
A note: I'm trying to create a replica of a 300-year-old cloth product using Seiren Co., Ltd.'s cloth-making technology. When I made a prototype and compared it with the real thing, I found that the color development of the fabric was different from that of the paper, so color correction was necessary. However, I don't know how to do the color correction and do the next prototype. Please give me some advice.
Activity status as of April 20: Prototype confirmation test conducted. It turned out that we needed color correction.
Progress so far
In August 2022, I participated in the FOQ and visited the UK Quilt Guild in York for the article of Quilt Japan magazine. At that time, The Guild was told that Coverlet 1718 was so badly damaged that I could not see it, which I regret. I also ask the curator if she wants a cloth replica of Coverlet 1718, and finds out that she needs it.
In December 2022, I proposed donating a fabric replica to the Quilt Guild, which was accepted. I named this as the Replica1718.
In January 2023, I made the plan for Replica1718 and adjusted. Approved in early February. See plan at the bottom of this page.
In February 2023, I Concluded a contract for delivery of coverlet 1718 photo data with the Guild. I received photo date of Coverlet 1718 on March 3rd. In addition, Seiren Co., Ltd. decided to sponsor.
March Start of adjustments to make a prototype. Perform a light/dark test before making a prototype.
Started making prototypes at the end of March. Confirmation test will be held on April 20th.
April 20: Prototype confirmation test conducted. It turned out that we needed color correction.
About Coverlet 1718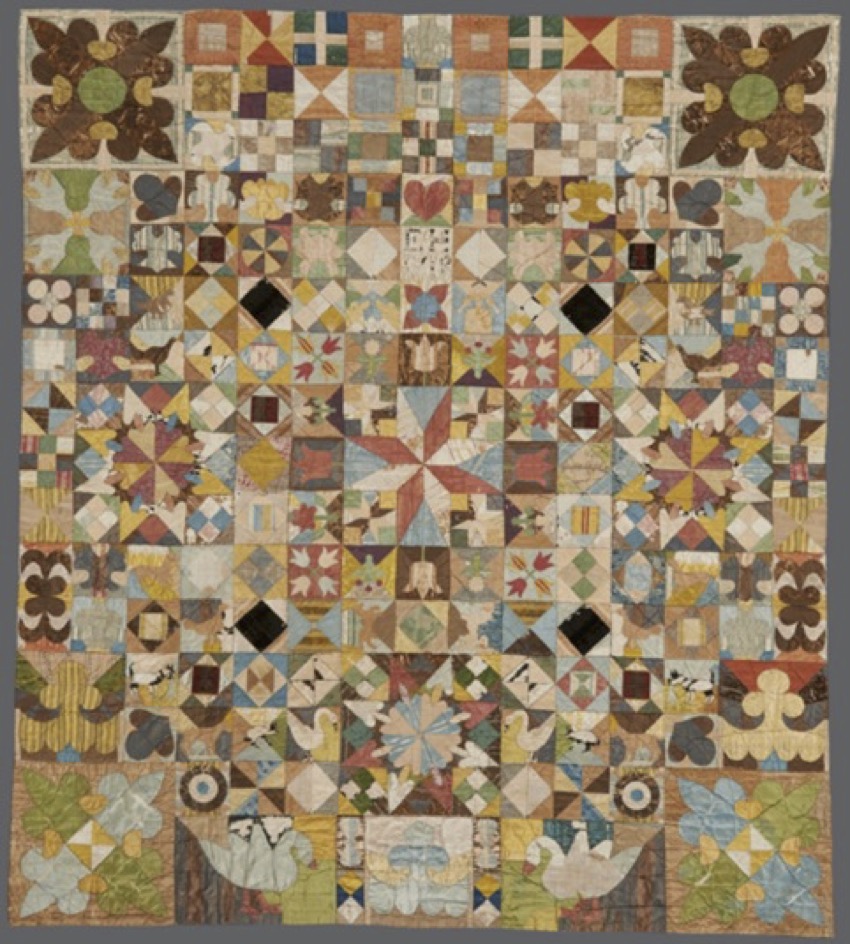 Commentary: The Sicilian quilt is known to be the oldest quilt in the world, but the oldest patchwork work in the UK (the production year is confirmed) is Coverlet 1718 that the UK Quilters Guild have, which is created by the famous English Paper Piecing. This 169 cm wide and 185 cm long, made of silk. However, it is so badly damaged that it can hardly be displayed.
The quilt is made by inserting cotton and quilting. This is a single piece of patchwork fabric, so it is called a coverlet.
Collections | Quilt Museum and Gallery, York
Plan & Schedule
1 General plan
(1) Purpose: To smoothly create a fabric replica of Coverlet 1718 according to the wishes of "The Quilters' Guild Museum Collection", to contribute to the revitalization of British quilt culture and mutual understanding between Japan and Britain.
Name the project "Replica 1718".
(2) Item to be created: Coverlet 1718 fabric replica 2 pieces
(3) Timing: Aiming to be able to present at the FOQ in August 2023. Details: See Time Plan
(4) Planning coordinator:
Japan Side: Mr. Kenzo Nakamura, geometric quilt designer
British Side: Ms. Heather Audin, Curator The Quilters' Guild Museum Collection
Other parties involved: Seiren Co., Ltd. (sponsor: production and technical support)
(5) Production procedure: Make detailed production adjustments and make a single prototype to smoothly produce the desired product. Details: See Prototype plan
2 Time Plan
  Including one Prototype production, Dedication at the FOQ(August 2023) will be done according to the following schedule.
January: Adjustment of Prototype production plan
February: Light/dark confirmation test before prototyping
March: Prototype creation based on light and dark confirmation test
April: Confirmation test of prototype and adjustment/decision of production procedure based on it
May: Replica creation
June: Arrival and confirmation of replicas in the UK
August: Dedication & exhibition at FOQ