Summary: Describes the conditions for collaboration-making an Islam Style quilt. You can also apply from here.
Conditions for collaboration-making for Islam Style quilts
Prerequisites, etc.
(1) Collaboration will be adjusted by exchanging images by e-mail, so please contact those who can handle it. A smart phone will suffice. In addition, e-mails will be sent and received in English basically.
(2) I plan to write an article about the completed quilt and publish it in a magazine. Therefore, I would like to ask non-beginner quilters who have experience in creating quilts of about 1m square.
Contents to be carried out on the Nakamura side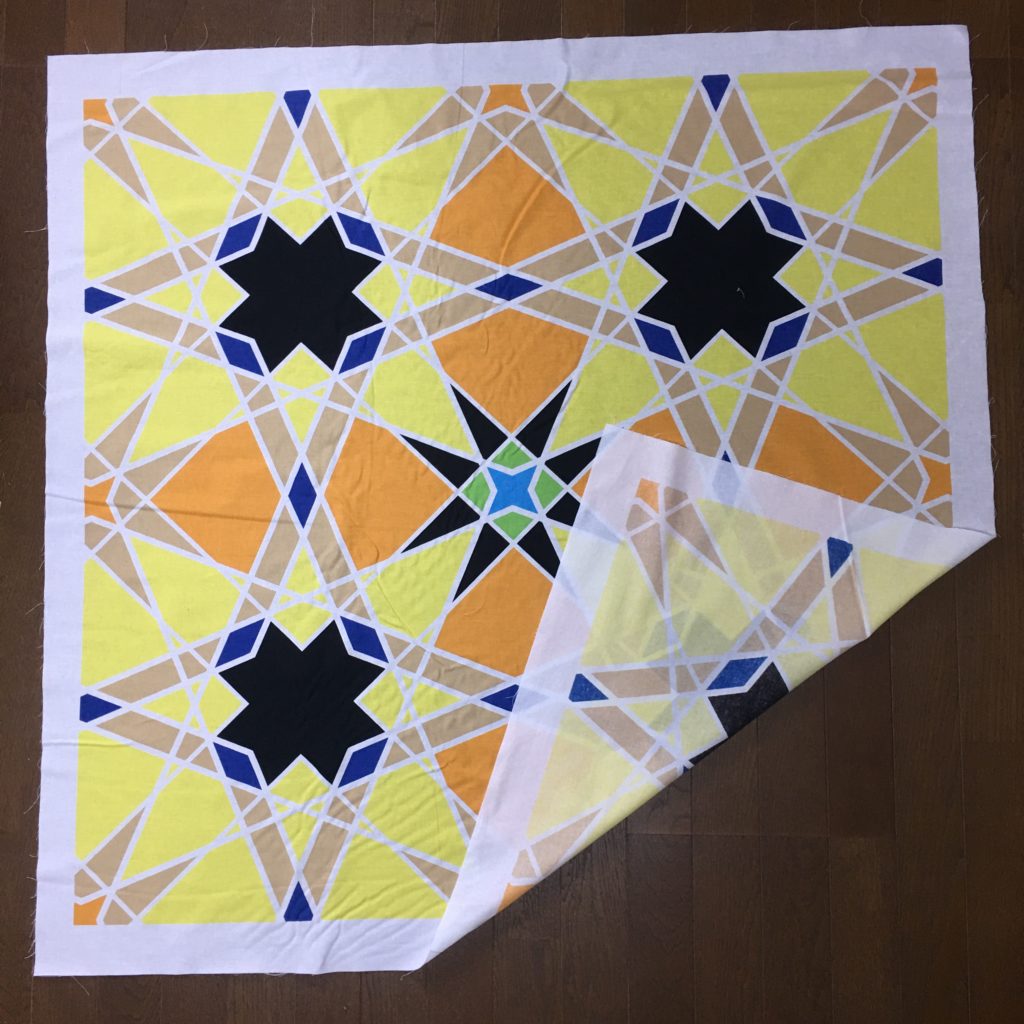 (1) Quilt top material of the selected design (equivalent to 15,000 yen, made of medium cotton) will be provided free of charge.
(2) I will conduct a color simulation of the bordering and support the decision.
(3) I will write an article about quilts that you have created and aim to publish them in magazines. If it does, I will present the published magazine to you.
What does the creator do?
(1) Based on the color simulation of the bordering, you will determine the color of the bordering.
(2) Finish the creation within 3 months from the actual start of creation. In the case of circumstances that hinder the creation, you will discuss with Nakamura and set the time and period again.
(3) Write and take photos based on comments and photo notes created by Nakamura. In addition, the photograph is enough at the smartphone level.
(4) You will need to prepare the materials needed to make the quilt, except for the quilt top materials.
Other conditions
(1) The ownership of the quilt created is half between Nakamura and the creator, but the usual storage location is the creator. In addition, if it is necessary for magazine publication or exhibition, etc., it will be adjusted in advance and used preferentially by Nakamura as long as there is no special trouble. In addition, the postage of the quilt is the original payment.
(2) If the entire and partial details of the completed quilt are posted on social media, etc., publication in the magazine may be canceled.Please refrain from the second half of the creation. In addition, if there is no place to publish a magazine, I will let you know, so you will be available for posting on social media after that.
(3) If there are any other questions, we will make an offer from both sides and discuss them.
Contact me for collaboration
Please fill in the desired design number and collaboration creation hope and apply below.